Midwest Elite Top 80 Showcase Details
Goalie position is full! Please contact Mariah@uslaxevents.com to be added to the waitlist. 
The Midwest Elite Top 80 is back in 2023 and at the Bridgeview Sports Fields located just outside of Chicago, IL. Last year, there was over 40 coaches in attendance, ranging from D1 to D3 to NAIA and MCLA. Expect there to be even more in 2023.
Tentative schedule will have all participants engage is 1.5 hours in individual and team drills all lead by the attending college coaches with three to four lead coaches organizing each drill and sessions. Players will then break for lunch and afterwards get with their selected teams so they can go over strategy before competing in three 45 minute games. Teams will be coached by college coaches who have agreed to participate with an evaluation procedure developed to allow for the top performers from each team and game to be considered for an all star game appearance.
Fee is $350. Players will receive reversible jersey with registration.
All games Saturday will be played on the turf fields at the Bridgeview Sports Fields. Three guaranteed games will be played while a chance to have a 4th game if selected to the All Star team. Majority of games will be played indoors but some games will be played on outdoor turf just outside of the dome.
Refund Policy: By registering for this US Lax Events, I understand that unless the program is cancelled by US Lax Events, ALL fees are non-refundable.
Cost
Register throughout August 31st and save $50!
$300 throughout August 31st.
September 1st and afterwards: $350
Format
MIDWEST ELITE TOP 80 IS OPEN TO ANY AND ALL PLAYERS. IT IS NOT REQUIRED TO HAVE PLAYERS BE NOMINATED OR INVITED IN ORDER TO PARTICIPATE. ALL ARE WELCOME.
TO RECEIVE AN INVITATION LETTER WITH THE REQUIRED INFORMATION TO REGISTER, YOU MUST FIRST BE NOMINATED BY YOUR HIGH SCHOOL OR CLUB COACH. WE WILL BE SENDING NOMINATION FORMS TO COACHES NOW THOUGH OCTOBER 31ST. COACHES MUST RETURN THESE NOMINATION FORMS IMMEDIATELY.
** Make sure you keep up with your coach to see if he has sent in nominations **
STEP 1: WE SEND OUT NOMINATION FORMS TO HIGH SCHOOL AND CLUB COACHES.
-OR-
HIGH SCHOOL AND CLUB COACHES FILL OUT NOMINATION FORMS ONLINE ON THEIR OWN.
STEP 2: AFTER RECEIVING NOMINATION FORMS FROM COACHES, US LAX EVENTS SENDS OUT INVITATION LETTERS TO NOMINATED PLAYERS.
STEP 3: PLAYERS FILL OUT REGISTRATION, JUST HOW THEY WANT THEIR INFORMATION TO BE SHOWN IN THE COLLEGE RECRUITING HANDBOOK, GUARANTEEING THEMSELVES A SPOT AT THE SHOWCASE.
STEP 4: US LAX EVENTS ENROLLS PLAYERS FOR SHOWCASE ON A FIRST COME, FIRST SERVE BASIS UNTIL ALL SPOTS ARE FILLED.
If you are a High School or Club Coach, please fill out the Showcase Nomination Form below and return to Henry Sitkiewicz (henry@uslaxevents.com).
Nomination Form: Midwest Elite Top 80 Nomination Form
Divisions
2024
2025
2026
2027
Midwest Elite Top 80 Showcase Resources
Nominate Players for the Midwest Elite Top 80 Showcase
The Midwest Elite Top 80 Showcase is open to all and any players but nominated athletes will receive priority in registration. Please nominate athletes in the nomination form below. Once a player is nominated, US Lax Events staff will be notified and invite the player within 72 hours.
| | |
| --- | --- |
| Check In | 9:30-10:15AM |
| Coach intro and player warm up | 10:25-10:40AM |
| Positional Clinic | 10:40AM-11:05AM |
| Break | 11:05-11:10 |
| Meet Coaches and team drills | 11:10AM-11:30AM |
| Games | 11:30AM-4:45PM |
| All Stars Announced | 5:15 PM |
| All Star Game | 5:30 PM |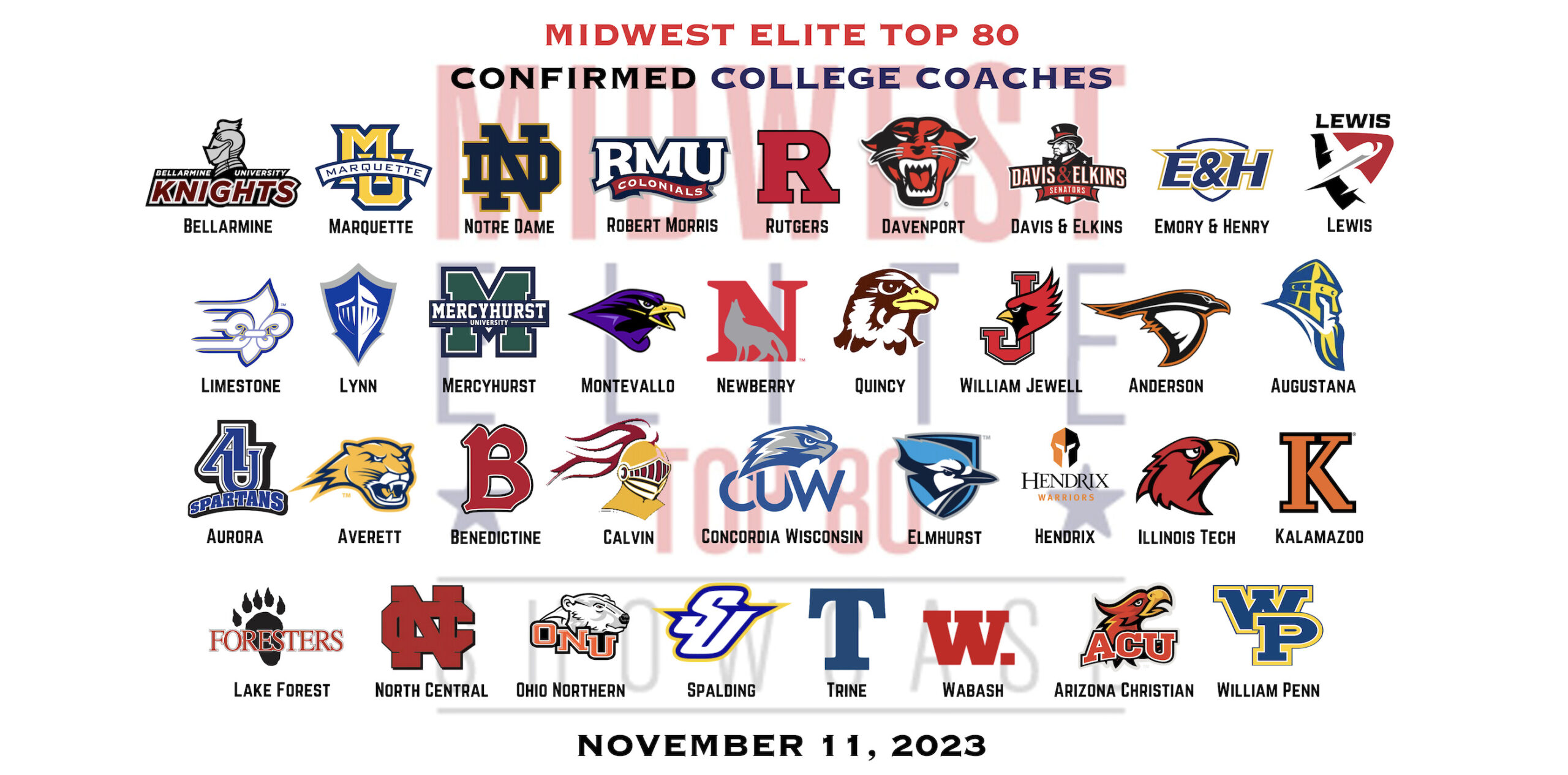 Next Level Video will be covering all High School games in High-Definition on professional HD equipment from an elevated position. Copies of games and highlight reel editing services are available for purchase through one of the multiple packages listed below. Pre-order discounts are available to all orders placed before the start of the event. If you don't pre-order before the event you CAN still order after - All of the games will be covered!