Cost
HS: $1700: NLV Film Included
2029-2032: $1350
2033 7v7: $850
Format
4 game guarantee. 3 pool play games with at least 1 Sunday game. Games will start at 8AM on Saturday and Sunday. Games will end by 4PM on Sunday.
Divisions
BOYS
2025
2026
2027
2028
2029/2030 A | 2029/2030 B
2031/2032 A | 2031/2032 B
2033 7v7
Location
Woodside Sports Complex
Address
4770 State Hwy 13, Wisconsin Dells, WI 53965
Big 6 Challenge Resources
BIG 6 CHALLENGE SPECTATOR FEE
Woodside Sports Complex requires a gate fee for spectators at the Big 6 Challenge North. This gate fee goes directly to the facility, not US Lax Events. Players and coaches will get in free, but there will be a gate fee for spectators:
$5 for ages 6-17, seniors, and military members.
Kids under 5 are free.
$10 for ages 18+.
Conquer your fall lacrosse season with the Big 6 Challenge. The tournament is located at the all turf facility of Woodside Sports Complex.
Premier Hospitality Group is the official hotel partner for US LAX EVENTS. With over 20 years of hotel experience, they have made the hotel process for teams & individuals attending the tournament as simple and effortless as possible. In just a few clicks, your hotel block is secured, and reservation instructions sent to your email that can be forwarded to your team. As a coach or team manager you are able to review current rooming lists through your Premier Hospitality Group account, allowing you to see who has reserved within your block. Hotel rates are lowest published with team friendly cancellation policies.
It really is as easy as it sounds, what are you waiting for, block your rooms today!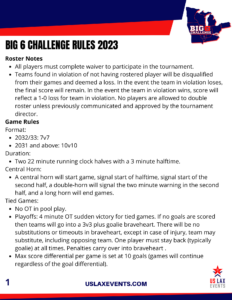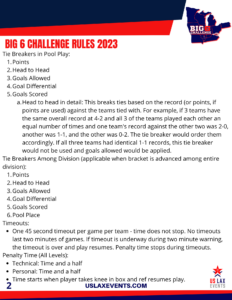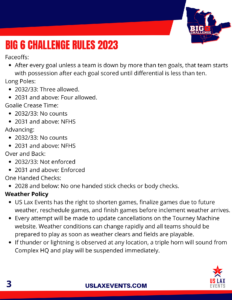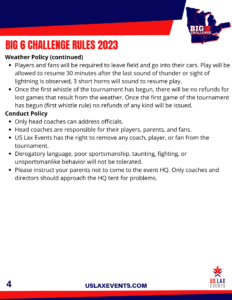 Next Level Video will be covering all High School games in High-Definition on professional HD equipment from an elevated position. Copies of games and highlight reel editing services are available for purchase through one of the multiple packages listed below. Pre-order discounts are available to all orders placed before the start of the event. If you don't pre-order before the event you CAN still order after - All of the games will be covered!